Manchester Half Marathon 13th October 2019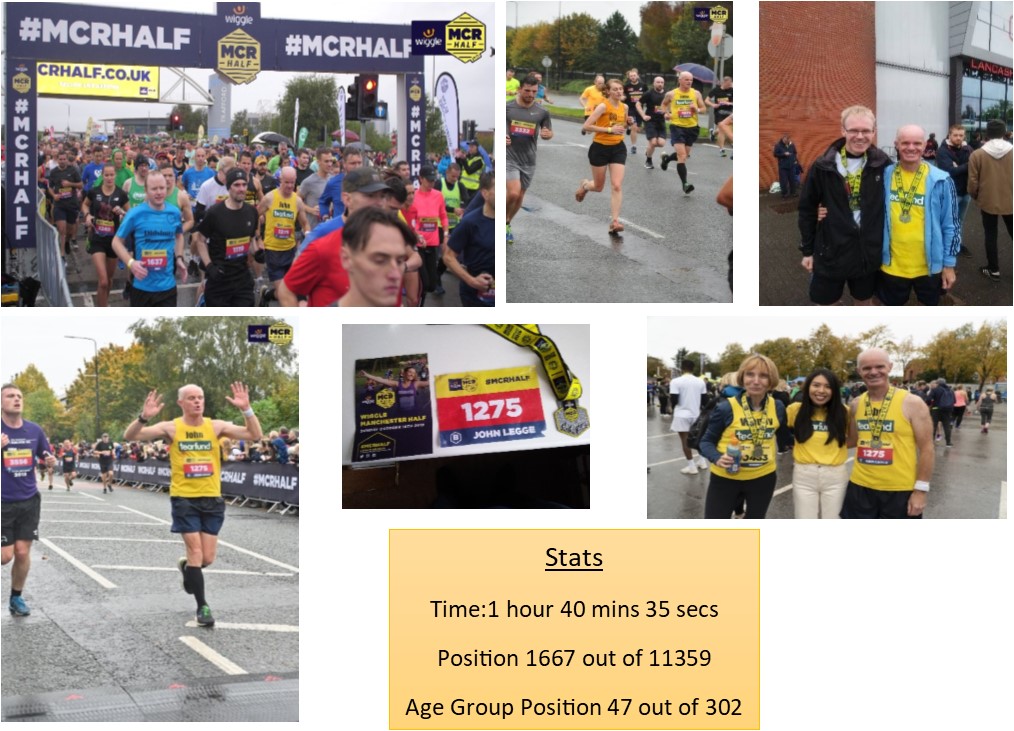 I was running this race to raise awareness and funds for Tearfund the Christian Charitable agency who serve the world's poor. The race itself was quite exciting with so many runners taking part. It was only my 2nd half marathon road race and my friend Mark took part with me. Wendy also ran for Tearfund as you can see from the picture above. Josephine came all the way from London to support us and photograph us which was very special. My final total was £891 but well over the £900 mark with gift aid contributions.
I would want to list many thank you's to supporters/sponsors/family/friends who supported me through the training and the build up to the event. In particular to my wife Dianne who organised a wonderful Quiche day which brought in £200 and baked many quiches and to those who came on my Excel charity training day which brought in £350. I don't often undertake sponsored events and the next ones will be when I'm 60 but I was honoured to be able to do this for Tearfund.
John
We are thrilled that John ran the Manchester Half Marathon for Tearfund on October 13th. Over 16,000 runners of all abilities took part in the 13.1 mile race, and John powered through the distance to finish in a brilliant time. We are so grateful for John's support of our work and willingness to put himself through the paces for Tearfund.

The money raised will help more than 10 people receive training to feed and provide for their family, so on behalf of Team Tearfund, thank you to all who sponsored John's run. It's only through the commitment and passion of fundraisers like John, and sponsors like yourselves, that we can do the work we do. Your gift is powerful in God's hands.
Josephine Fong
Fundraiser Specialist
Tearfund