Virtual Intermediate Word Training Course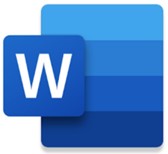 Our virtual intermediate Word training course can be run in all Microsoft versions.
All of the courses we run are full day courses and they normally run from 9:30am to 4pm with two coffee breaks and a lunch break to break up the day. Although we have set timings, we can alter them to fit in with your training needs. As well as standard courses, we can also create a bespoke course tailored to your training needs. Whether it is a standard or bespoke course, just ask we'd be happy to help.
Course Objectives
The objective of this virtual course is to equip the attendee to develop an understanding of more in depth features in Word. Some of the features covered include introducing sorts and formulas into Tables, formatting objects and creating a simple macro in Word. As well as these features, we also look at creating Tables of Contents, using mail merge from external data sources and creating protected forms.
Key Content
The key content that is covered in the virtual course can be found below:
Customising the workplace
Inserting objects into a document
Inserting multiple Columns and section breaks
Simple Macros
Autotext, Autocorrect, Styles
Sorting and Formulas in Tables
Table of Contents
Mailmerge using a created datasource
Mailmerge from an Excel spreadsheet
Using Mailmerge with form letters and with Mailing labels
Protecting documents, Using Templates and Forms
Exercises throughout
If you would like more information and prices, please contact us at johnlegge@jplcomputer.co.uk or call us on 07903 840105 for a no obligation quote.
We'd be happy to help with your virtual Microsoft Office training needs.
Comments from attendees:
"Best part of the course: the practical elements".

"The best part of the course was the pace of the course, was fast but easy to follow".

"Best part of the course: found it very easy to understand and follow – well explained"

"Best part of the course: Styles".

"Course was excellent. Best part of the course: shortcuts & tabs".