Virtual Basic Word Training Course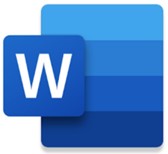 Our Virtual basic Word training course can be run in all versions of Microsoft.
All of our courses are run as full day courses and so run from 9:30am to 4pm. To break the day up we plan in two coffee breaks and a lunch break. Although the timings for our courses follow this standard layout, we can also alter them to fit in with what you need. As well as the standard course content found on our agendas, we can also create a bespoke course to be tailored to your needs. Whatever you are looking for just ask, we'd be happy to help.
Course Objectives
The aim of this course is to equip the trainee with the knowledge of how to lay out a document in Word, gain skills in text alignment and how to select words, sentences and paragraphs. As well as this Word Styles use is looked at, how to insert tables and simple pictures and also how you can utilise some features in Word to increase neatness and efficiency.
Key Content
The key content that is covered in the virtual course can be found below:
Tabs, Ribbons and customisation
Basic Word features
Formatting, Shading, Borders
Find Replace. Justify
Spelling and Grammar
Tabs
Bullets
Styles and Quick Parts
Page Setup and Margins
Header and Footer
Simple Tables
Inserting columns
Exercises throughout
If you would like some more information and for prices, please contact us at johnlegge@jplcomputer.co.uk or call us on 07903 840105 for a no obligation quote.
We'd be happy to help with your virtual training needs in Microsoft Office.
Comments from attendees:
"Good & accurate. Clear layout. Best part of the course: good atmosphere – excellent pace for group"

"Unbelievably helpful – notes & training! Best part of the course: the active demonstrations"

"Best part of the course: learning the use of the ruler – this will be very useful"

"Overall excellent. Learnt/shown more than expected. Best part of the course: all of it was useful"

"Best part of the course: final exercise"