Our JPL testimonial on Shrewsbury Food Hub
Shrewsbury Food Hub is a charity that reduces food waste & supports the community. They do this by volunteers collecting leftover food from stores & restaurants and sharing it with community groups. These groups include the local Food Bank, schools, homelessness charity and refuge.
The surplus food creates opportunities for people to reduce their food budgets, learn cooking skills and provide a social focus – all whilst reducing the environmental impact of food waste.
How we help Shrewsbury Food Hub
JPL provided the SFH team with training on Microsoft Excel.
The team took different levels of training depending on their previous experience.
As the training took place in the Covid-19 pandemic, it was delivered over Webex (an online conferencing programme).
The team could interact with John (course leader) verbally and share screens, so they could be guided through each activity.
As Microsoft Excel is a programme the team use frequently, the aim was to raise awareness of all its functions, so it can be used more efficiently.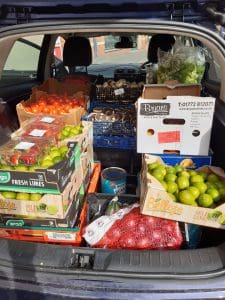 Quotes from attendees on some of the courses:
"Thank you John for an engaging session. It has opened our eyes to many shortcuts and features that will make our working days run smoother"
"Being a small charity, we do a lot of data collection and evaluation, to show the impact of our work. John showed us useful ways to record, sort and display our data in Excel. This will save us a lot of time! Thanks John"
"A clear, well-structured course that catered for every level of computer literacy!"