6 MS Office shortcuts that you can use to save you time with your work – have you used any of these?
This week's blog looks at 6 MS Office shortcuts that are 'must know'! These shortcuts and tips are for the 3 popular MS Office packages: Excel, Word and PowerPoint. They are quick, easy to learn and will save you time.
#1: Show all Excel Formulas in a Flash!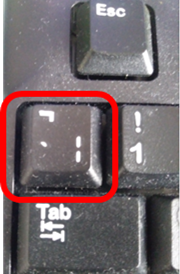 If you keep pressed the control button and then press this strange looking key (Tilde) which sits between the Tab and Escape key, it will show all the formulas in the worksheet and then repeat it to return to your usual mode.
#2: Insert Part of a Screen into a Word Document
This is called screenshot and used to be part of a separate clipping package but now built into Word and Outlook as standard. Simply go into the screen you want to clip from, then straight back into your word document. From here Insert Tab, Insert Screenshot, Screen clipping which takes you back to the former screen. Next select your clipped piece of the screen, this inserts the image into Word which you can resize and format like any other picture in Word.
#3: Record a Voice Over in PowerPoint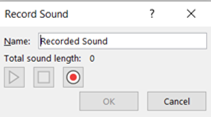 Really easy this one. Simply choose the Insert Tab, Audio, Record Audio. Next give it a name, Start Recording, then End recording and spread your voice over file across several slides! You will need to time your slides transitions to match to the voice recording.
#4: Some Quick Excel Keyboard Shortcuts
A couple of quick keyboard shortcuts next in Excel. Shift F11 creates a new worksheet and Control Shift End (Selects all cells in a range from current cell to bottom right).
#5: Shrink to 1 Page in Word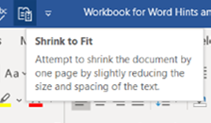 There is an option to shrink to a 1 page document in Word. Add this button to your Quick Access Toolbar from All commands.
#6: PowerPoint free Add ins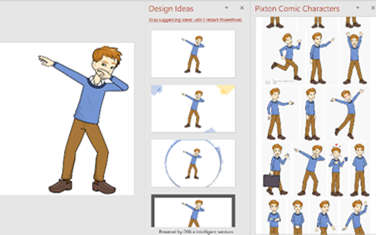 Add a free Add in into a PowerPoint slide. A bit of fun for this last one. Insert Add ins, Choose Pixton comic characters and then use this add in to insert a custom cartoon character with chosen hair, style and outfit!
We hope you have enjoyed this hint and tip on 6 MS Office shortcuts. Why not take a look at our previous one on CONCATENATE a text function in Excel?
Or if you would like to view the many more hints and tips already available, please visit our website www.jplcomputer.co.uk.