Excel Shortcuts Part 1 – the F1 and F11 function keys and undo/redo shortcut keys, have you used them? Watch the video to learn more

This week's hint and tip is on Excel shortcuts part 1. Part 1 of these shortcuts covers the function buttons F1 and F11 and also the shortcut keys for undo and redo. These are covered in our courses but we decided to do a hint and tip on them as well. We are going to go through them now below.
F1 Function Key
The F1 is a universal function key shortcut within the Microsoft Office packages for Help. Pressing this key when you are within Excel will bring up the side pane for Help where you can search for the issue or problem you have.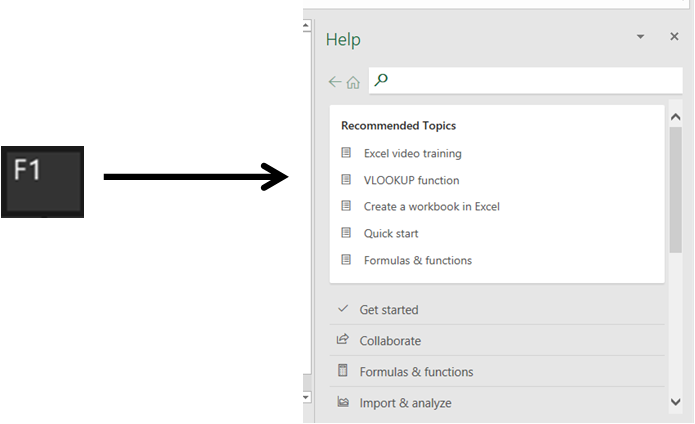 As well as this, it also has another shortcut feature when used with the Ctrl key on your keyboard. If you hold down the Ctrl key and then press the F1 key on your keyboard it will hide the ribbon at the top of your screen. When the ribbon is hidden on your screen, pressing the shortcut combination again displays the ribbon.

F11 Function Key
The F11 is a very useful and powerful function key within the Excel package as it can be used to create a chart! Once you have selected your data, pressing the F11 key will quickly produce a chart in your spreadsheet. This can be very useful as it saves time when creating charts.

As well as this shortcut, the F11 key has another shortcut feature when used alongside the Shift key on your keyboard. If you hold down the Shift key and then press the F11 key it will insert a new worksheet in your spreadsheet.

Shortcut Keys for Undo and Redo
There are lots of shortcut key combinations in all of the Microsoft Office packages and we are going to go through 2 now. These shortcut key combinations can be used in all of the other Microsoft Office packages as well. The shortcut keys we are looking at are for Undo and Redo. Undo is often used a lot more than Redo but having the shortcuts for both can still be very useful.
The shortcut key combination for Undo is the Ctrl key and the letter Z on your keyboard. Whereas the shortcut key combination for Redo is the Ctrl key and the letter Y on your keyboard. Using this shortcuts can save you time when working in Excel on a daily basis.

Summary of the Shortcuts above…
F1: Brings up Help
Ctrl+F1: Hides or displays the ribbon
F11: Creates a chart after selecting data
Shift+F11: Inserts a blank new worksheet
Ctrl+Z: Undo
Ctrl+Y: Redo
The video below shows you how you can use these shortcuts in your spreadsheets to save you time. Some of these you might know already but some you might not!
Take a look below at the video to find out more and then try them out on your own computer!