Column and Section Breaks in Word – what are these and how can I use them in my documents?

This week's hint and tip is about column and section breaks in Word and how you can use them in your documents. These aren't covered in a lot of detail in our Word course, so we also we decided to do a hint and tip on them. We are going to go through it now below.
What are they?
Although page breaks are very common and in truth quite simple to do in Word, column breaks and section breaks are not particularly well understood.
So, this blog and associated video will make these 2 useful features quite clear for you to try out.
Column breaks: allow you to move across to the next column in your document so that you can type in text there.
Section breaks: allow you start a new section on your document. This means that in one document you can have multiple sections with different numbers of columns in each one.
How to use them
Effectively these are the steps in summary to create a 1 page document with 2 section breaks and 3 different column layout:
Blank page, Layout Tab, Columns, Two
Type in bulleted list for first column and then press onto new line, remove bullet, Layout, Breaks, Column
Type in bulleted list or second column and press enter onto a new line, remove bullet, Layout, Breaks, Section Break Continuous
Now select Three columns from Layout Tab and then continue as before
After the entry for the 3rd column again apply a Section break before changing back to one column
Here is the result showing the 'show hide' markers. If you would like to view the Word document with this example in it, click here. (Clicking here will download a copy of the Word document onto your computer for you)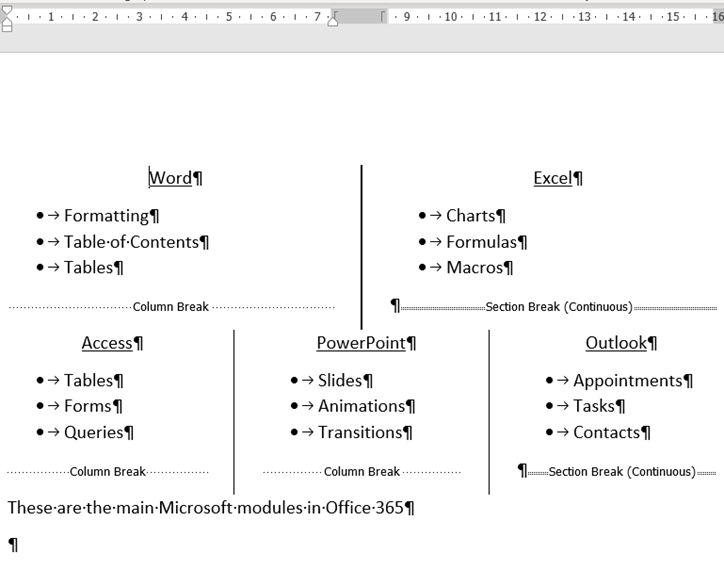 The video below shows you what both column and section breaks are and where to find the area to insert them from. It also shows you how to use both in your Word documents. We hope that you find the video useful and enjoy learning about it!
Take a look below at the video to find out more!
We hope you have enjoyed this hint and tip on column and section breaks in Word. Why not take a look at our previous one on booking rooms using the scheduling assistant in Outlook?
For more details on Word feature see our Word training courses content here.