Bespoke Training –
JPL IT Training Limited have been providing Microsoft Office training for over 20 years and in that time have carried out a wide range of courses. Courses are an important way to learn new skills but to also build on the knowledge that you already know. We have a variety of set courses with agendas that we have put together, but more recently it has become more popular for companies to come to us wanting bespoke training for their staff.
Bespoke training courses allows the course notes to be tailored around the existing knowledge of the staff that would be attending. The bespoke courses that we have personally carried out for companies vary a great deal as they allow for that personalisation to their need. We can adapt the training to include a client's own data files as well as tailor our existing content across courses to suit them.
Some examples of bespoke training courses that we have carried out are: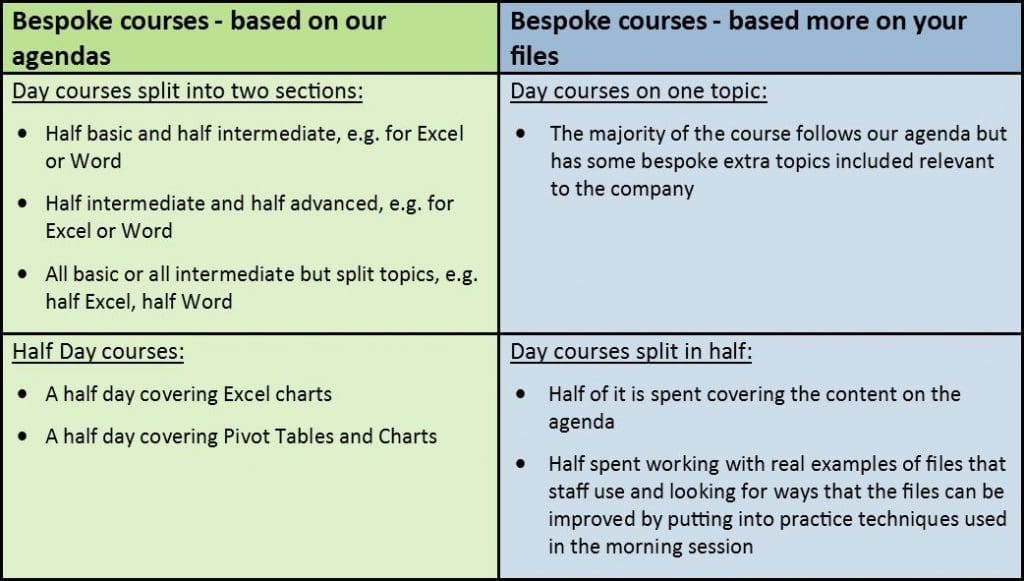 Overall, any of our standard courses can be tailored to suit any of the requirements that you might have. No matter what constraints you might have, we will endeavour to tailor the course to what you require.
An example of a recent course that we ran was a bespoke Excel Pivot Table and Chart half day course for a company in Warwickshire. Click here to view the agenda for the course.
We specialise in Microsoft Excel training, PowerPoint, Access, Word, Project, Visio, Outlook and Publisher training in Worcestershire, Herefordshire, Gloucestershire, Leicestershire and Warwickshire.
To speak to us further or to enquire about Bespoke Training for your company or for you as an individual, please see our contact page for ways to get in touch with us or fill in a contact form with details of what you enquire for the training.