Custom Printing in Word – I can't print off a custom range of pages, is there a way around the issue?

This week we are bringing an extra hint and tip about custom printing in Word. This isn't covered in our Word course, so we decided to do a hint and tip on it. We are going to go through it now below.
As of the 21st of September 2021, there is a known 'software bug' when it comes to Word custom printing.
Currently I'm not able to custom print from Word certain pages in a multi page document so this blog and associated video is to share 3 workarounds.
Option 1 – Setting an option in Word
In Word, Options, Display set 'Update fields before printing'
This then allows you to print ranges but you must answer the Table of contents dialogue box which appears and say choose 'update entire table'.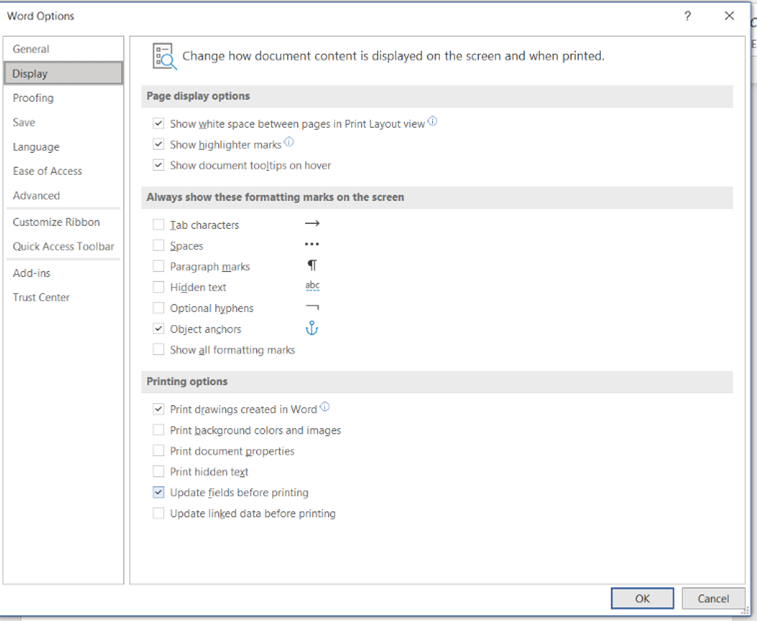 Option 2 – Save as a PDF
You can of course save as a PDF and then print your selected pages within Adobe PDF printing as you always have outside Word.
Option 3 – Using Word on the Web
I sometimes use 'Word online' saving my documents to my One Drive folder.
You can print off using Word online a custom range of pages without an issue.
So, until it's fixed at least you have 3 workarounds!
The video below shows you the printing issue that we have currently come across. It also goes through 3 workarounds that you can use to overcome the issue. We hope that you find the video useful and enjoy learning about it!
Take a look below at the video to find out more!
We hope you have enjoyed this hint and tip on custom printing in Word. Why not take a look at our previous one on hints and tips posts in PowerPoint on our website?
For more information on Word and hints and tips please visit our web site here.