PowerPoint Hints and Tips: how to find all the hints and tips we have on PowerPoint and some information on the recording feature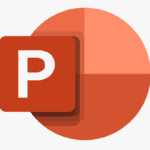 This blog is really a "double whammy". Firstly it demonstrates a particular page on our website and it was created by using the new Recording feature in PowerPoint 365. We are going to go through it now below.
Recording feature in PowerPoint
PowerPoint has lots of new features. One of these is the ability to record a presentation with narration and video and screenshots. You can then turn the presentation into a video which you can put online or send to whoever.
To create the video, we went through these steps:
Opened up a blank presentation
Created slide 1 and inserted a video of John talking to introduce the presentation. The video has been trimmed and reduced in size
For slide 2 we inserted a screen recording from PowerPoint's Insert Tab (or the Recording Tab) of John talking you through the new hints and tips PowerPoint blog page
We went into Rehearse timings from the Slide Show Tab, generated the correct transitions times and finally exported it all to a video .mp4 file
Tabs we used in PowerPoint
Below are some of the ribbons for the tabs we used buttons from in PowerPoint when creating this hint and tip post with video.
Insert Tab

Recording Tab

Slide Show Tab

The video below shows you how to find PowerPoint hints and tips on our website and how to actually use the recording feature in a presentation. We hope that you find the video useful and enjoy learning about it!
Take a look below at the video to find out more!
For more information, please see our course information by clicking on the images below or on contact us on johnlegge@jplcomputer.co.uk
We hope you have enjoyed this hint and tip on PowerPoint hints and tips. Why not take a look at our previous one on the some common features in Office 365?